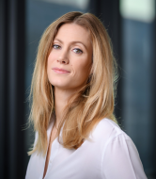 Caroline Lair
CEO (Co-Founder of Women in AI)
,
The Good AI
Caroline Lair launched The Good AI in 2021, the first community of AI startups and talent on a mission to help companies transition towards a more sustainable and circular business. She's also the co-founder of Women in AI, an international nonprofit working toward a gender-inclusive AI.
Prior to this, Caroline did operate in various business positions, lately at Snips, building private-by-design AI Voice Assistant ( acquired by Sonos in November 2019) and at HCVC venture capital firm, as an investor and partner.
Caroline holds two master's degrees in business (EM Lyon, France) and international relations (Lyon III, France).