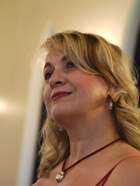 Lisel Engelbrecht
Executive Head, Data Engineering, CIO (Data, Analytics and AI, Chief Data & AI Officer of Women in AI)
,
Standardbank
In her Professional capacity she is working at a Financial Services institution in South Africa this South African bank has the largest asset size in Africa
She is wearing two hats – Tech and OPS for Data as well as the Data Engineering Practise and Execution for South Africa.
Then giving back – I am involved with Women in AI – the current gap I am trying to fill is the digital , data and analytics officer for WAI Global.
She has spent most of my career involved in large scale Enterprise projects all with a Data flavour in the Manufacturing, Retail, eCommerce, and Financial Services.
She was also awarded as one of the Top 100 Innovators in Data & Analytics for 2020 and 2021