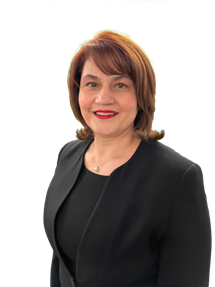 Zana Aston
Chair WIT
,
European Women on Boards
United Kingdom
An Award-winning champion of digital technologies including AI/IoT/Cloud Technologies, Master Data Management, Cyber Security, Digital Marketing, and Decentralised Finances; with an outstanding track record of leadership, design thinking, executive reporting and C-suite advisory support resulting in successful delivery of business-critical multi-million-pound enterprise projects.

Zana focuses on technologies such as AWS/Azure Cloud, Blockchain and AI and has produced white paper research on topics such as FinTech in undeveloped countries, implementation of AI in a circular economy, collecting data via drones, and use of Blockchain in supply chain management.

Zana is contributing to the wider technology community and takes to the stage at events related to Digital Transformation, Cyber Security, Sustainability and Women's Leadership. At Singapore's Asia Tech she acted as the Cyber Security Moderator and she was a Panel Speaker at the AI Summit, part of London Tech Week, where she lead a discussion on behalf of Informa Tech on biases and prejudices in AI. Zana's last venture was in Iceland where Zana discussed Women in Innovation and sustainability on a global stage following being nominated for an honorary award for Women in Innovation and Tech.

A vocal champion of the use of technology to create new opportunities for women, Zana chairs the WIT® interest group at European Women on Boards, acts as Board Director for WIT® Croatia and she is an Angel Investor to small businesses. As a Corporate Governance Diploma Holder and President of the Supervisory Board at SGS, Zana mentors executives via various platforms such as Connectd. A strong networker, Zana sits on the Advisory Board for Finance and Fintech Group within the Institute of Directors, London and belong to the prestigious City Livery Club.

Zana have been delighted to receive awards such as the Women in Leadership scholarship from the prestigious École des Ponts ParisTech and EADA Business School, Barcelona, where she completed a dual Executive MBA.

As Chief Information Officer and Managing Partner of Emrys Consulting, which provides expertise across all facets of Innovative Tech for start-up, scale-up and SME businesses, Zana continues on her determined journey in the ever-evolving world of technology.

Zana hopes to inspire other women to enter the field of STEM, and to continue to grow and develop at all stages of their careers.